Description
Designer: Anu Saari (2006)
Pattern Story 
The panda is a likable and visually beautiful animal. In 2006 Anu Saari gave the panda a new theme, one that will surely be carried on for years to come. As the name Ajatus (Finnish for: thought) indicates, there is something a lot more to it than graphic aesthetics. 
Product Specification 
Material: 100% Cotton 
Yarn Count: 80s 
Thread Count: 2350(±5%)/ 15cm
*According to International Industrial Standard Thread Count: 400(±5%) per inch2

Washing Instruction 
•No soaking 
•Some laundry sanitizers may cause chemical reaction to fabrics, please avoid using them 
•Do not mix dark color with light ones 
Smart Quilts
Smart Quilts consist of one summer and one autumn quilt. One can decide which to put on depending on the weather. The two separate quilts can be combined to form one winter quilt with the snappers along the uses. No quilt cover is needed and no extra storage spaces required for winter quilts.
*In chemical testing we rely on the Oeko-Tex® certification. Finlayson™ bedding collections are Oeko-Tex® standard 100 certified (HKC 15980 TESTEX).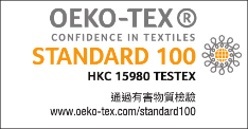 Customer Reviews
{{'product.product_review.no_review' | translate}}